Find the answers to some of our most frequently asked questions below
UK DELIVERY - Delivered from the UK.
Standard Delivery (2-3 Days, Royal Mail) - £3.99
Express Delivery (1-2 working days, Royal Mail Special Delivery £6.99
US AND CANADA - Delivered from the UK.
UPS Worldwide Tracked Delivery (6-8 Days) - £5.99
UPS Worldwide Express Delivery (2-3 Days) - £15.99
EUROPE DELIVERY - Delivered from the UK.
DHL European Tracked Delivery (6-8 Days) - £5.99
DHL European Express Delivery (2-3 Days) - £15.99
INTERNATIONAL - Delivered from the UK.
UPS Worldwide Tracked Delivery (10-12 Days) - £5.99
UPS Worldwide Express Delivery (3-5 Days) - £15.99
When will my order be shipped?
Please note that during busy periods shipping times may be affected and you may have to check with your preferred courier as to their deadlines.
 
We offer tracked delivery (select it at checkout)
 
All orders are shipped directly from our UK warehouse within 24-48 hours of the order being placed.
 
Orders received on weekdays before 13:00 GMT will be shipped out the same day.
 
Orders placed after this time will be sent the next day. Orders placed on the weekend will be shipped out Monday.
 
The estimated shipping time begins from the day your order is despatched.
 
Please note that we are unable to make any changes or cancellations once the order has been placed. Once the order has arrived, please contact us on contact@justaura.com if you have any questions.
 
Customs Fees
We are not responsible for any import or custom fees associated with your order, please check with your country's regulations to see if there will be any additional costs. This includes any import fees for orders sent with Free Express shipping.
Late or lost orders
When placing your order please make sure that you specify the correct delivery address as Just Aura take no responsibility for missing parcels that have been sent to the wrong address or if requested to leave with neighbour or an outbuilding.
Any order discrepancies relating to missing and/or lost items must be reported to us in writing via email at contact@justaura.com. We cannot refund or replace lost items until 20 working days after the date of despatch (25 working days for international items) - this is when Royal Mail classes items as being lost.


Items not received but tracking shows they have been delivered
This may happen when items are sent to places of work. In some cases, your item might have been delivered to a post room or colleague within your company and someone else will have signed for it.
Please note we do not refund or replace items that are tracked as being delivered. For this reason, we always recommend that you get items delivered to a secure address.
What materials are the bracelets made from?
Each Bracelet is made up of unique semi-precious "grade A" Gemstone Beads (Please see individual bracelet descriptions).
Please note that natural gemstones vary in colour and shape. Our product photos are used as indicators, so please note that the actual product may appear lighter or darker than shown.
Will the bracelets fit my wrist?
Do you have a male & female range?

Our bracelets are 100% unisex.
We firmly believe that every human being should feel comfortable wearing whatever they like, without being judged or labelled.
How do I put on my bracelet? It seems too small..
Our bracelets are adjustable. Please refer to the instructions below.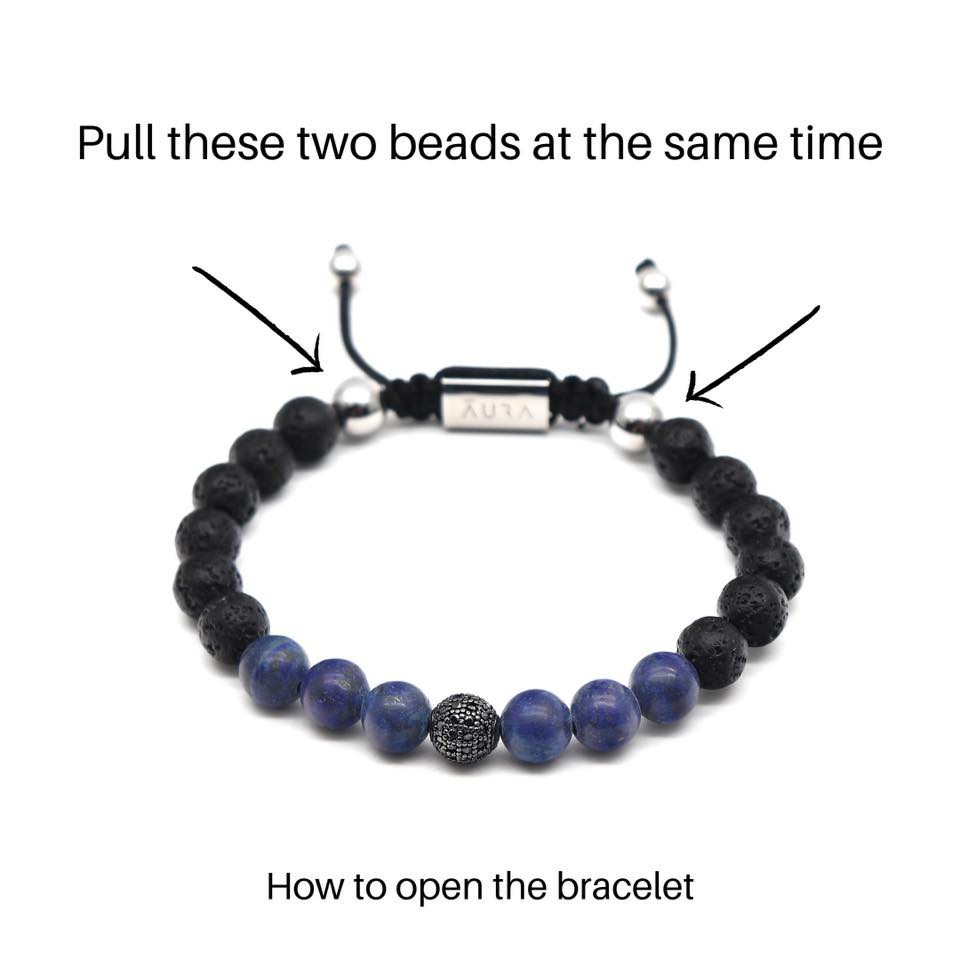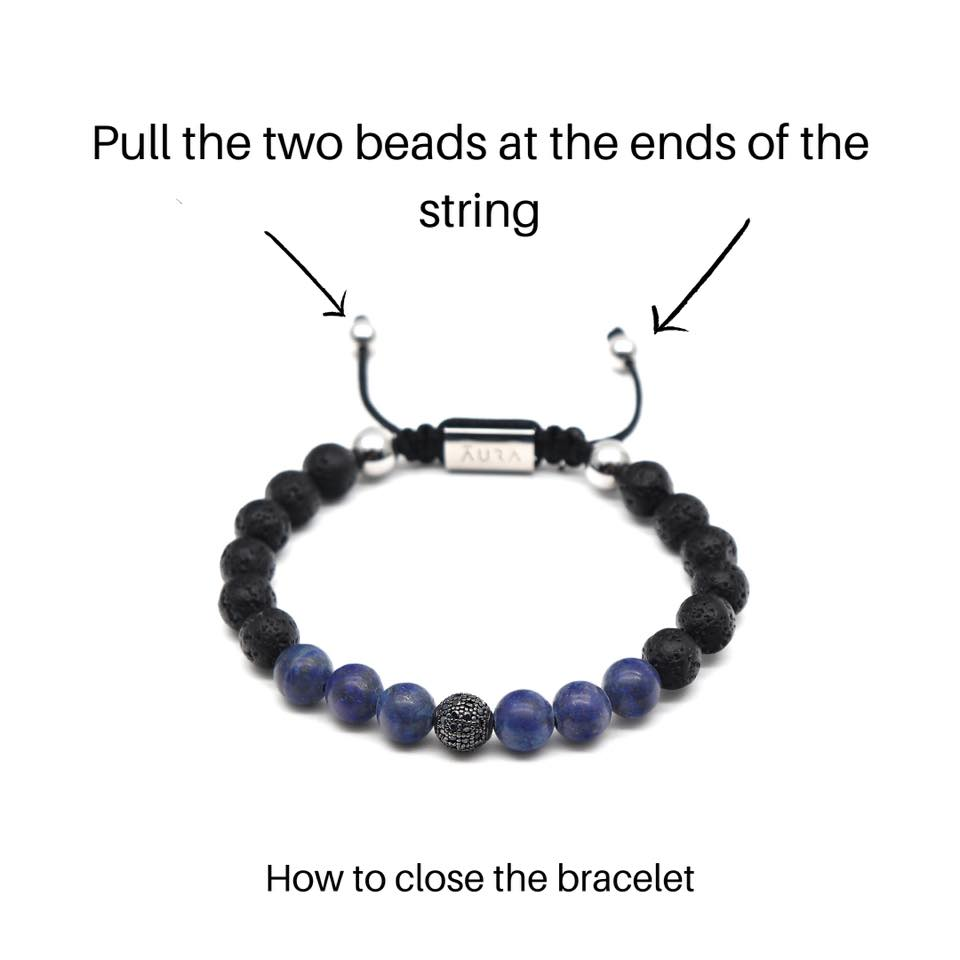 What materials are the pendants made from?
Our pendants are made from 925 sterling silver and the highest quality natural gemstones and crystals.
Are the gemstones and crystals natural?
Yes, all of our gemstones and crystals are 100% natural, and in being so, they do vary in shape, size and colour fomration.
No two are alike, meaing they may vary from the product photo shown on our website.
How do I care for my 925 sterling silver?

Sterling silver will tarnish over time if not given a little TLC.
Please use a silver polishing or microfibre cloth to clean regularly.
Semi precious stones shouldn't be immersed in a silver dip or exposed to any chemicals.
Avoid wearing your jewellery in the shower, in the bath or while swimming.
Hand sanitiser, lotions and perfumes should be avoided so always put your jewellery on last.
When not wearing your jewellery, store in an air tight box to stop it from tarnishing.
What size is the 925 sterling silver chain?
The chain is 56cm in length.
We do not offer refunds or exchanges for sizing issues.
Please refer to the accurate size guide here before purchasing.
In the unlikely event that your bracelet or pendant arrives damaged, please email us at customerhappiness@justaura.com and we will provide you with a return address.

Please note that we need to be notified within 7 calendar days of delivery. All return requests will not be approved after this period.

All items need to be in un-used condition, in original packaging.

We recommend using Registered/ Tracked shipping method to avoid potential issues.
What is the lifetime happiness guarantee?
We are incredibly proud of our craftsmanship and confident in the quality of our bracelets and pendants.
That's why we offer a LIFETIME Happiness guarantee on all of our products.
If you have a problem, we will solve it. Repair it. Exchange it. Whatever it takes. Your happiness is guaranteed.
Simply reach out to our wonderful customer happiness team here, and they'll take care of everything for you.
STILL HAVE ANY QUESTIONS?